Everyone Loves Italian Food!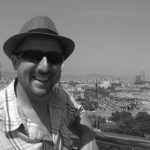 Frank Randazzo was born in the Bay Ridge community of Brooklyn, New York, and raised in Staten Island. His ancestors are from Naples and Sicily. He grew up in a household where knowing how to cook so that one could eat well was extremely important. Putting a good dinner on the table was simply something to which he was accustomed. In addition to that influence on his life decisions, he points to the region where he grew up for providing enormous secondary inspiration. "In an area such as New York, Italian food was something that was always there and that I really was proud to embrace."
Andrea Curto-Randazzo was born and raised in Vero Beach, Florida, after her parents moved down from New Jersey. Her heritage is Southern Italian, stemming from Abruzzi, Basilicata and Calabria. She has particularly fond memories helping her maternal grandmother, Catherine Rose DelVecchio, with Sunday dinner, which encouraged her initial interest in cooking. She also recalls her grandparents' stock of Italian bread that they kept in the freezer, and refrigerator filled with prosciutto, soppressata, sharp provolone and more. "Italian food was the foundation of how my family cooked," Andrea says. "Whatever my grandparents could not get in Vero Beach, they had my uncle ship them from New Jersey."
It's no accident that separately, before they met and married, both Andrea and Frank became acclaimed chefs. After graduating the renowned Culinary Institute of America, Andrea worked at Tribeca Grill in New York, where she first became acquainted with Frank, who had come to Tribeca from Aquavit and Arizona 206. Fate brought them together again in South Florida in the mid-1990s, while he was executive chef first at The Heights in Coral Gables and then at The Gaucho Room at the Loews Hotel in South Beach, and she was executive chef at nearby Wish, where she was named one of Food & Wine Magazine's Best New Chefs.
Together, they've opened the critically acclaimed and popular Talula (South Beach), among other ventures. Today, they run Creative Tastes Catering in addition to randazzoitaliano.com. They live in Miami Shores, raising their three daughters the way they were brought up—with plenty of love and family Italian recipes, particularly the gnocchi that Frank's grandmother used to roll and the Sunday Sauce and meatballs passed down from Andrea's grandmother (which took Andrea years to duplicate given the lack of written recipes), always flavoring the air in the kitchen as they cook.
Acclaimed chefs Andrea Curto-Randazzo and Frank Randazzo have perfected recipes from generations past and now have them available at randazzoitaliano.com for you and your family to enjoy. Experience the fresh flavors and aromas of the Randazzo family kitchen. These Southern Italian dishes have made their way from Abruzzi, Basilicata, Calabria, Naples and Sicily through Brooklyn, Staten Island and New Jersey to here in South Florida. The Randazzos look forward to sharing their meals with you!